Make sure you choose the restoration company, not your insurance company!
A Mission Viejo couple is suing State Farm Insurance and two other companies after they say the companies neglected to properly take care of their home after water damage from heavy rain in 2013.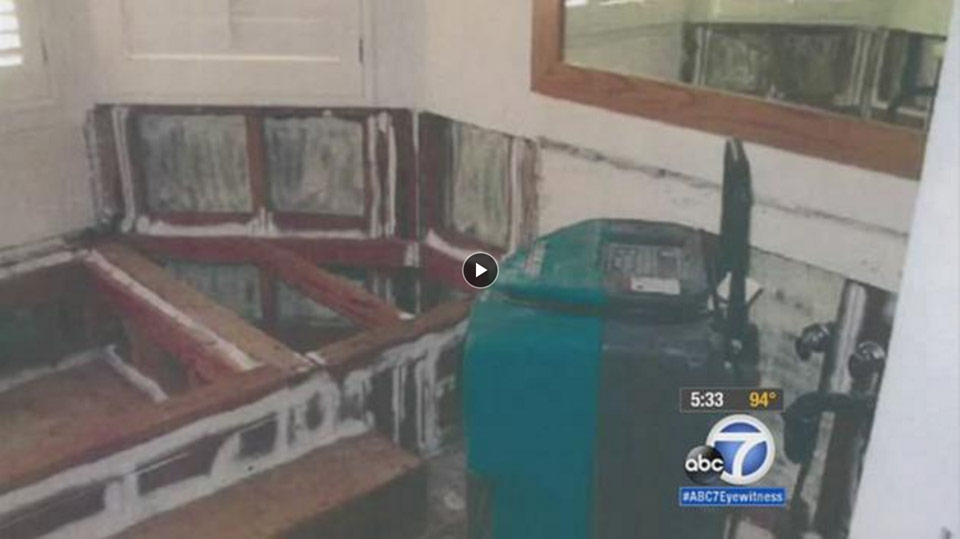 Transcript from ABC News Story:
MISSION VIEJO, Calif. (KABC) —
A Mission Viejo couple say their nightmare began when they returned to find their home flooded March 7, 2013.
Gregg and Cindy Comey say water rained down from an upstairs bathroom, saturating the ground floor of the $700,000 house they had just moved into months before.
They called State Farm, the insurance company they've paid premiums to for 20 years.
"We trusted them," Cindy said. "It was a nightmare."
What the Comeys say happened next led them to file a lawsuit against State Farm and two other companies, Servpro and ServiceMaster. The couple alleges those two companies were recommended by the insurance company as part of their premier service program for water loss.
The Comeys say State Farm told them Servpro and ServiceMaster are independent of State Farm, screened and qualified, and would not be paid unless the work was performed to the Comey's satisfaction.
"If any work they do is substandard, you have a five-year warranty on that," Gregg said.
Servpro came in to dry out the home.
"When they left, they told the Comeys the house is dry," said Evangeline Grossman, the Comeys attorney.
But the Comeys say two weeks later, they started smelling what they thought was mold.
The couple says State Farm initially told them mold tests were not covered, so they paid for it themselves.
"When we found out the results, it was shock. The house was contaminated with mold," Cindy said.
The couple, along with their daughter April, 17, and their son Aidan, 7, moved into a hotel.
The Comeys say State Farm paid Servpro, despite the Comey's dissatisfaction.
Two months after the flood, they say State Farm recommended the other company, ServiceMaster, to clean up what Servpro allegedly left behind.
"Upstairs, where the loss occurred, in the bathroom, they didn't take out the bathtub. The water was trapped under the bathtub," Grossman said. "That's how they save money – is by cutting corners."
Instead of removing mold damage, the Comeys say ServiceMaster sprayed a white-colored paint called Kilz to cover it up, in order to pass a mold test, which it initially failed. The remediation charge: just under $5,000.
"The bottom line between State Farm, Servpro and ServiceMaster is they're in cahoots," Grossman said.
She filed the lawsuit for her clients, alleging breach of contract, breach of the duty of good faith, fraud, false promise, intentional misrepresentation and negligence.
In an internal email uncovered by Grossman during the course of litigation – after the Comeys questioned the relationship between State Farm and Servpro – a veteran State Farm claims team manager wrote to his adjuster: "We can say all we want that they are independent contractors, but I think we would lose in court."
The Comeys attorney alleges Servpro and ServiceMaster get repeat business, and in turn, "State Farm has a pattern and practice of using its premium service program vendors to minimize the scope of loss and to pay less money on claims" by trying to avoid removing mold damage and rebuilding.
"It's more expensive to do that than for the house to develop mold and pay the mold limit," Grossman said. "State Farm has a cap on mold of $5,000."
According to State Farm's website, in 2013, there were 17,900 residential water related claims in California.
Grossman alleges at least 75 percent of all residential losses involving State Farm end up with either Servpro or ServiceMaster.
In the Comeys case, Grossman estimates it will cost about $50,000 to repair the mold damage.
She says they're looking at $150,000 to $200,000 in damages. Grossman says the Comeys had to pay out-of-pocket for things such as accommodations after they say State Farm forced them to move out of the hotel and into an apartment.
Cindy, 49, says she suffers from severe spinal problems and was unable to continue living in the apartment because she couldn't get around. She uses a wheelchair or a cane. The Comeys allege State Farm refused to pay for them to return to the hotel, so they eventually had to move in with family.
The Comeys have returned to their house – after two years away – although they say they'll have to move out again, once they can afford to have the mold properly removed.
"A 20-year policy holder. I feel very betrayed," Cindy said.
ServiceMaster and Servpro said they're "unable to comment on pending litigation."
In a statement, State Farm said, "We deny these allegations and are eager to present our case in the appropriate place, and that is in a court of law. "
The premier service program is "optional," according to State Farm.
"Our policyholders always have the right to select their own service company to do their repair work," the insurance company said in a statement.
The case is expected to go to trial next April.
END
Recently had Water Damage and
Now Smell Mold?
Request a FREE Phone Consultation
Working with insurance companies and contractors can be intimidating, and often homeowners sign off on a job without realizing it was not done correctly. Talk to one of our experts and get valuable information on what steps you should take.
If you are being told it only takes 3 days to dry,  you need a second opinion. We specialize in helping customers that have jobs left wet by other companies.
A few of our customers that had NextGen fix the problems left by other companies.