Commercial Restoration Services
When a disaster strikes you need to get your business up and running quickly and safely.
Our commercial water damage, fire restoration, and mold remediation emergency services are available 24 hrs a day, 365 days a year.

Commercial water damage clean up requires experience in working with the additional challenges that are present in large loss claim. Understanding commercial building materials, additional insurance claim requirements, code regulations are just a few of the items that are different than working with residential water restoration projects.
. 

Fire damage often results in additional damage due to smoke and water damage from the firefighting process. Our trained technicians know how to quickly clean up and restore your business to the condition is was before the fire, including reconstruction. Special attention is made to eliminating the strong smoke odor from materials such as upholstery and carpet.

Mold Testing & Remediation
Commercial property owners must take extra steps to insure the health of their employees and customers. Mold can be extremely hazardous and must be handled quickly. Even a small water damage event can turn into a costly mold problem in days. Many commercial buildings have a musty mold smell, we can prevent this from happening to your business.
Hi-Tech Moisture Detection
The secret to our success is NextGen's DAMP (Deep Assembly Moisture Profiling), – electronic sensors that can detect moisture deeper inside the walls than traditional methods. No other company has the proprietary tools we use.
We use additional sensors to record moisture levels, temperature, humidity and more.
We remotely monitor the drying progress 24/7 and make adjustments to equipment or procedures as conditions change.
Our proprietary software converts the complex technical data and organizes them into comprehensive reports. Our documentation makes it easy for insurance adjusters to review the work performed quickly, making the billing process more efficient and accurate.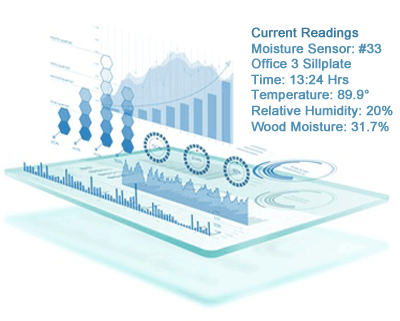 NextGen is the ONLY Company in Tampa with this Technology
Our DAMP – (Deep Assembly Moisture Profiling) coupled with our proprietary MitManager (Mitigation Management Software) gives us the ability to handle large projects easily.
A comprehensive solution for one room or an entire building 
The complex technical data from sensors and equipment on site is pulled together into one seamless solution, making it easy to review specific areas or the project as a whole.
Water Damage Restoration is the most common
Once on scene, our trained technicians will determine the extent of the water damage and move quickly to start the mitigation process to prevent secondary damage caused by standing water.  We start with water removal by using commercial water extraction equipment that can pull a high rate of gallons of water per minute, even water that has debris and sludge mixed in can quickly be cleaned up.
Large Loss / Commercial Restoration and the Unique Requirements
Commercial buildings are often built to a different standard than residential, therefore advanced testing procedures are critical to doing the restoration job properly. Drywall can be double the normal thickness, and locating wet insulation behind the wall and drying the entire structure properly will be the key to preventing mold growth. Most other companies use non-penetrating moisture testing equipment that only detects moisture 1/2″ into the wall. NextGen is different, we use 3 1/2″ penetrating screws attached to sensors that detect moisture deep into the wall and reports the moisture content which is logged and documented with our advanced software. During the structural drying process, the sensors stay in place and moisture content is constantly monitored so there is no guesswork on when the structure reaches a dry standard. This proprietary system used by NextGen is the reason we have become a leader in the restoration industry. In fact we often consult other restoration companies on large commercial water loss projects on properly drying commercial buildings.
Commercial Insurance Claims
When working with commercial property damage it's important to thoroughly evaluate the scope of work required and provide comprehensive documentation for every step of the restoration process to make the insurance claim process easy and efficient.
Our goal is to provide the highest quality commercial water damage clean up and restoration to our clients across Tampa Bay area. Serving, Carrollwood, Sefner, Brandon, St. Pete, Clearwater, Ruskin, Oldsmar, South Tampa and more. 
Our customer reviews will give you insight on why we are called the the top commercial restoration company in the Tampa Florida area and trusted for commercial water damage remediation by the experts in the industry.
NextGen is a top commercial restoration company in the Tampa area that will work closely with you and your insurance company
The same principle applies to insurance claims, especially in commercial water damage restoration.
You must insure after extracting standing water that you properly test the walls to see if there is water damage.  Keep in mind that insulation loses its R-value when wet and is more of a potential liability than anything else in this condition. Wet walls and insulation can hold moisture for a long period of time, and wet drywall or insulation that is not dried properly will allow mold clusters to form inside the wall. Long after your insurance claim has been completed, the last thing you want to experience is the smell of mold.
Once Drywall, plasterboard, wallboard, gypsum board, or Sheetrock is exposed to water, in most cases it needs to be replaced. The restoration process is to cut only the sections that were damaged by the water intrusion.
We Specialize in Commercial Restoration Services for: