Moisture Testing and Assessments
Home Moisture Inspections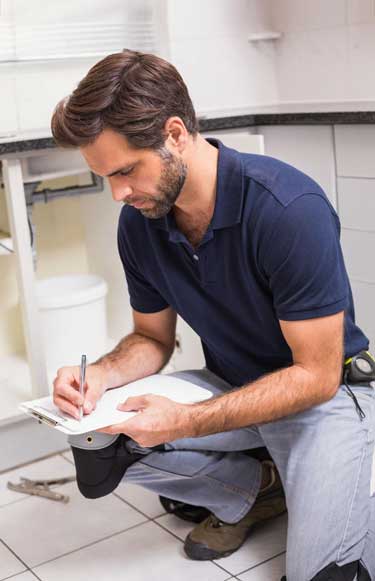 Tampa's Moisture Inspection Experts
Moisture is difficult to detect especially behind the walls. Normal home inspections don't test for moisture, yet it can be one of the most important items to check. Most homes experience a moisture problem after water damage, but there's many other reasons that your home could have high moisture levels. Moisture problems can damage building materials over time and support mold growth spelling disaster for any homeowner.
Our innovative technology, experience and in-depth knowledge of structural drying provides our customers with a level of expertise that is unsurpassed. We can locate hidden moisture faster and more accurately with our advanced technology.
Advanced Moisture Testing Equipment Using Smart Sensors
We use a new innovative technology that utilizes a series of small penetrating electronic moisture sensors that detects moisture levels deep inside your wall assembly, including inside the wood framing.
Traditional moisture meters used by most other water damage companies can only detect wet areas on the surface of the wall, and other meters like infrared thermal moisture meters really only detect temperature changes. Neither accurately identify moisture that is occurring inside the wall cavity. Intrusive (penetrating meters) testing is the only way to accurately assess moisture intrusion levels.
Eliminating excess moisture in a home is the key to preventing mold growth and other moisture related issues. Learn More about DAMP.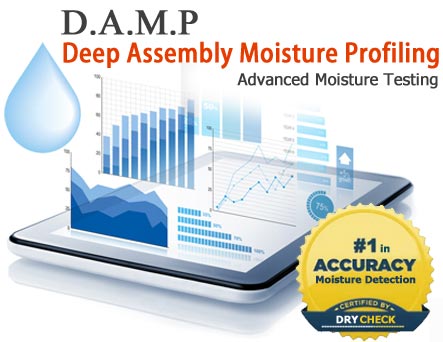 Our Dry Check Moisture Inspection also includes Visual Mold Inspection
Making sure your home doesn't have excessive moisture is critical to preventing mold, that's why with every Dry Check Moisture Inspection, we do a visual on site mold inspection.  Never worry that your home has hidden moisture that can allow mold to grow. Buying or selling a home? You can't afford NOT to do a moisture inspection.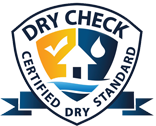 Moisture Inspection after Water Damage
If you've recently had water damage, you should have a moisture inspection to ensure the contractor thoroughly dried your home properly. Many homeowners sign off on work without knowing if the job truly was completed correctly. 
Did you have water damage and think the contractor might have caused mold? We can help! We specialize in re-drying homes left wet and mold developed. We will fight with you to get the job you deserve.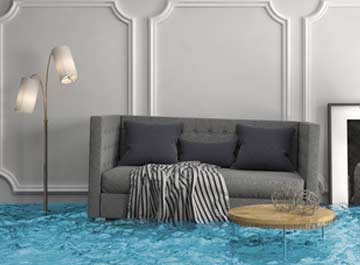 Excess Moisture Results in Mold & Mildew
Moisture also cause host of other problems and is very damaging over time. One of the first signs of excess moisture can be mold growth. Mold can grow extremely fast and can be deep inside your walls, so you may not notice until you start to detect a musty odor.
The good news is that mold can be cleaned up but the quicker you identify the problem the better. The longer the mold is allowed to spread, the more complex and costly the project becomes. A home moisture inspection is money well spent to prevent a larger expensive problem later on.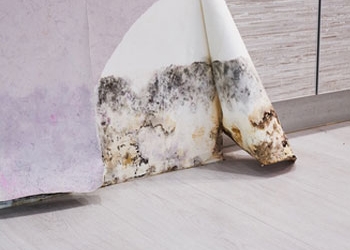 Protect Yourself when Buying or Selling a Home
A comprehensive moisture inspection should be one of the first things a new home buyer requests. Providing a moisture inspection report when selling a home is also protecting the seller. Don't just rely on a simple home inspection, take the extra steps to protect yourself by requesting a home moisture test and inspection.
A home can look fine on the outside, but hidden moisture or mold issues can be lurking just behind the walls. This means you can buy a home and have no idea there is a costly problem that is just waiting to be exposed months or years later.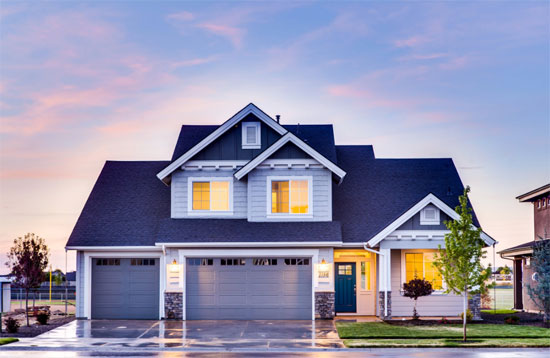 Our Technology has Helped Homeowners Just like You
Our reputation speaks for itself, we stand behind our customers so they get the job they deserve!
A Moisture Inspection Protects your Home
Living in Florida means high humidity, especially in the rainy season. The higher humidity provides perfect conditions for mold growth and other damaging effects from high moisture levels.
In Florida, we also have to remember termites are attracted to the moisture in wood, they consume the wood to get the water they need to survive. Wood will rot over time, sheet rock or drywall will weaken. Just about all the building materials in your home can slowly be damaged by high moisture levels. Request a home moisture inspection today from the professionals at NextGen!