Over 95% of structures are left wet enough to support microbial mold growth
Yes we are serious when we say 95% of all losses are left wet enough to support microbial growth. While it's rampant with preferred vendor systems who are limited to 3 to 5 days of drying, it also happens more often than you think with some restorers. It's actually easy to do.
All you have to do to make a structure that is still wet look dry, is to use a non-penetrating moisture meter that only measures the first ½ inch of a 5½ inch standard interior framed wall. Walls dry from the outside in, so the trim will get dry first, followed by the drywall, followed much later by the wood framing. Within 3 to 5 days, the trim will be at dry standard. But since the non-penetrating meter only reads a half inch, when you use the meter it only reads the trim and excludes everything behind it.
This is the reason we use 3½ inch screws to test for moisture. These deep penetrating screws, when used with our DAMP (Deep Assembly Moisture Profiling) – reveals moisture hidden inside the wall structures that will, within 24 to 48 hours, begin to support microbial and bacterial amplification.
We know it's hard to believe that companies that are designed to first and foremost dry a structure and prevent mold, actually, almost every single time, create the environment to support it hidden behind the wall assemblies.
We feel consumers need to understand this. We are doing our very best to educate both the industry and the consumer about these practices and create transparency so you, the consumer, can get the work product you think you're currently getting but are not!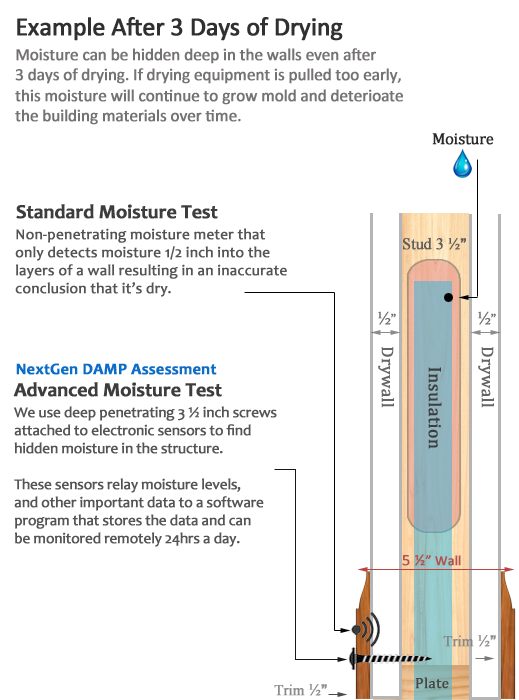 Solution: Advanced Moisture Detection Technology
Is the company doing your water damage restoration using the latest in technology to ensure your home has reached Dry Standard?
Make sure you go with a company that can check the moisture content deep inside the wall. Prevent mold growth by eliminating the excess moisture.

Why settle for inadequate moisture meters that read surface and drywall, or infrared cameras that only detect changes in temperature, not the moisture content.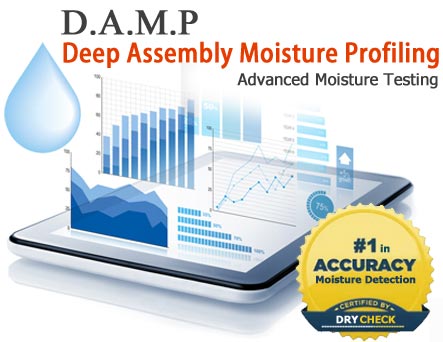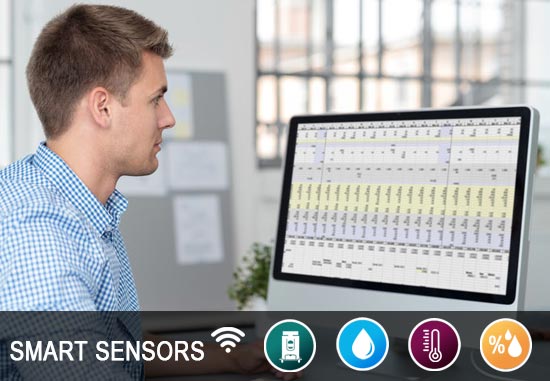 Utilizing More Smart Sensors to Monitor the Job and Equipment 24/7
Advanced technology allows us to capture and document the conditions during the project. The homeowner and the insurance adjuster can also remotely log in and stay updated on the process.
What's the 3 Day Drying Myth?
In the early 1990's to 2000's restoration drying science was in its infancy and it was thought that all materials in a structure could be dried in 3 to 5 days.
Two decades later with advancements in testing equipment and sensors that can penetrate the wall cavity, we can show that the wall cavity is often still wet after even 5 days of drying. Structures not dried properly can result in deterioration of building materials and the growth of toxic mold, which is extremely hazardous to human health.
In the professional water damage restoration industry,  previous drying times are now referred to as "The 3 Day Drying Myth". Science clearly shows that many structures take an average 9 to 14 days to dry. Did you know that many insurance companies though still require contractors only  leave drying equipment in place for 3 to 5 days? How can the do this? The answer is simple, they rely on the older non-penetrating moisture meters when proving a structure is dry.
Restoration Technology in 2021
Water damage restoration techniques today are a far cry from the early days when carpet cleaners were responsible for extracting water after a flood.
When the toxicity of mold was discovered,  the restoration industry worldwide went through many changes. New standards were developed, training and certification was required, and new government regulations were introduced.
Every restoration company is now required to follow the ANSI/IICRC S500 Standards for Professional Water Damage Restoration.
Although there have been many innovations in technology, better equipment and testing procedures there are many companies that still rely on the old ways. 
At NextGen,  we rely on the latest technology and science to determine when a structure is dry. That's why we use DAMP (Deep Assembly Moisture Profiling) on every project.
Important Insurance Information
Your insurance carrier may suggest hiring a contractor from their "preferred vendor list".
Be cautious, insurance companies will often limit their preferred vendors to 3 – 5 days of drying to reduce claims costs.
Pulling drying equipment too early is the number one reason structures are being left wet.
Discovering a mold problem months after a claim is closed can result in expensive litigation. 
At NextGen we use MIT's Client Onboarding, a comprehensive program that provides clients with easy to understand videos that teaches an overview of IICRC Standards and the water damage claims process. 
This knowledge has proven to be invaluable for our clients, by teaching them what's required from the insured, contractor and carrier during a project, every step of the process can be smoother.
Advanced Moisture Testing & Analysis
One of the reasons NextGen has been so successful at drying structures is greatly due DAMP assessment – Deep Assembly Moisture Profiling. At NextGen, we use the latest technology and equipment to make sure structures are dry and safely restored.
Our advanced testing and monitoring are an important part of our restoration and remediation procedures.
Realtime Moisture Monitoring
With our advanced moisture tracking and analysis software we can remotely monitor the overall structure which is an extremely key factor when restoring to a dry standard.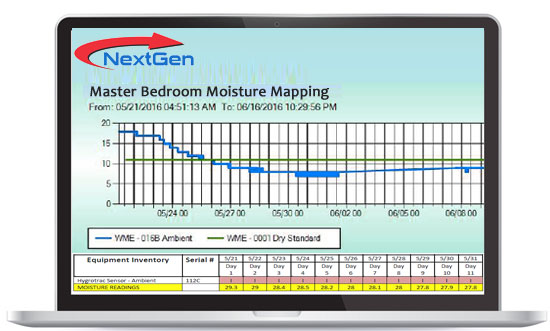 NextGen is the Bay Area's # 1
Re-Drying Company.
Think you might a have mold
or moisture problem?