Mold Remediation Experts in Tampa
At NextGen Restoration we are experts in mold remediation, mold removal, and cleanup. Finding hard to find hidden moisture deep in the walls and drying the structure properly is the secret to preventing mold growth after water damage. If you have had water damage, also known as water intrusion, you need an expert that is highly trained with experience in water damage restoration. We are IICRC Certified Master Water Restorers.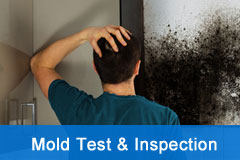 A visual inspection determines if advanced mold tests are required. Mold must have moisture to grow so first step is determining if areas are still wet and need to be dried to prevent mold growth. We use advanced technology that can even locate hard to find moisture deep within your walls.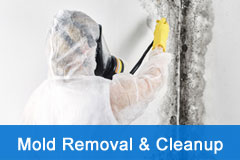 If mold is caught early you can prevent further damage but action needs to be taken quickly.  Keeping the mold spores from becoming airborne is extremely important. Our techs will seal off the area and set up negative pressure then treat the area to prevent spreading mold spores.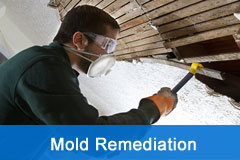 Mold remediation is the process of removing the materials that have been damaged by mold and need to be replaced. Most often this can be carpet, padding, wood flooring, drywall or cabinets. This involves some tear out and demolition but it is limited to only the damaged areas.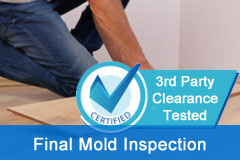 We provide independent, third party documented Mold Clearance Test, also know as a Post Remediation Verification or PRV . This service allows us to assess our work before we leave our customers' property. We stand behind everything we do!
First Step in Mold Remediation is to Make sure it's Dry
Have you had water damage and your mitigation company told you it was dry, but now you smell mold or is someone in your family unexplainably ill ? Is a contractor currently working on your project and you're not sure the job is being done right?
Working with insurance companies and contractors can be intimidating, and often homeowners sign off on a job without realizing it was not done correctly.
Ask about our Dry Check services,  a comprehensive home moisture inspection.  Call now,  Free Phone Consultation with an expert that can answer many of your questions.  Don't go it alone, we can help!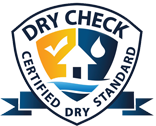 NextGen Uses Proprietary Advanced Technology
We use DAMP (Deep Assembly Moisture Profiling). The system is comprised of small penetrating electronic sensors that can accurately detect moisture deep inside the wall cavity and record the results.
Traditional non-penetrating moisture meters only scan for moisture on the surface and parts of the drywall. Infrared cameras only show temperature differences.  Neither can accurately identify moisture that is present deep inside the wall assembly.
The sensors are kept in place during structural drying, with the data from sensors and equipment recorded, then converted into comprehensive reports. These advanced methods ensure the structure is drying properly and shows exactly when the structure reaches Dry Standard.

No other company in Tampa has many of the tools that we use.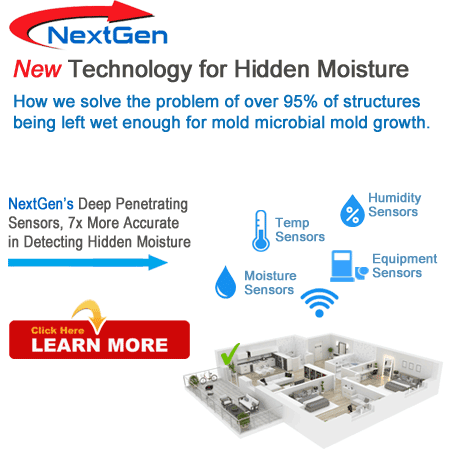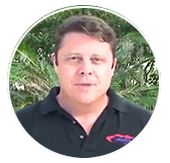 As a consultant, I train companies nationwide in the industry standards and how to properly dry structures. The terrifying truth is that most companies are simply not drying structures completely. While well intentioned, most restoration contractors do not have the tools necessary to find all the hidden moisture and resulting mold and contamination.
Our system has been designed from the ground up to provide a third-party validated, transparently reported accounting of everything that's on the job so that nothing is left hidden on the project to harm you or your loved ones. Armed with the truth, we are willing to fight alongside you, to get the necessary work performed (as required by IICRC S500 & S520 industry standards) and the resulting bill honored by the insurance carrier. 
R David Sweet, NextGen Restoration Consulting COO
Mit Consulting / Mitigation Information Technologies
Providing Documentation that's Above Reproach
We know that proper documentation is extremely important, especially if you are making an insurance claim. Our documentation clears up any questions that might arise later on. We use advanced software technology in the documenting process, therefore we can provide in-depth reports that detail everything we do, and then we store the data securely so it can easily be reviewed even years later.

Join Our List of Happy Customers!
Our reputation speaks for itself, we stand behind our customers so they get the job they deserve!
Common Questions about Mold
How Much Will Mold Remediation Cost?
Because every mold remediation job is different, our experts need to talk with you and get an idea of how large of an area might be affected and what caused the mold initially. Once we learn a little more about the situation, you can order a mold inspection if needed. We can even provide a comprehensive estimate and work plan for an additional fee, which will be applied to the project if NextGen's services are utilized.
Do I need mold testing if I can see it?
You won't need testing to prove you have mold, but you need testing to confirm where the mold has spread, and what it has affected so a detailed scope of work can be written that includes not only all the damage to the building, but also the contents.
What if I can't see mold, but it smells?
If you can smell mold it is actively reproducing and it's time to get a professional on the project. Often times paint and other materials will mask the presence of mold, this is when sampling becomes necessary. Sampling can also determine the type of mold that is present.
Recent Water Damage and Mold
If you've recently had water damage and were told it was dry, but now you it smells musty, chances are your assemblies and material are still wet. It takes on average 7 to 15 days to dry most structures. We specialize in this type of mold issues.
Is mold dangerous to my health?
There are many different types of mold. Some aren't dangerous, while others lead to chronic and severe health conditions. Stachybotrys for example, is also called "toxic mold" because it produces mycotoxins that cause severe health problems.
What are the first signs of mold?
If you think you have mold the first sign is a musty odor, peeling or bulging paint, gray, green or black patches and is often seen on ceilings, walls, or flooring. Mold usually grows in places such as under the carpet, behind walls, in attics and even in the bathroom.
Can I use bleach to clean up mold?
Bleach won't kill mold, it can only make it unable to reproduce. It leaves behind all the toxic components behind that can be inhaled and affect your health.  Never use bleach on wood, carpet, drywall, etc., in an attempt to kill mold, you can cause additional damage.
Consult with one of our Mold Experts
You can consult directly with a mold remediation specialist by phone. Don't go it alone, a free phone call can give you a lot of information and we help you decide on the next step
Learn More about our Water Damage Services
Visit our water damage page to learn more about our advanced technology and see why NextGen is Tampa's leader in re-drying homes left wet by other companies.  Water Damage Expert in Tampa