Mold Inspection & Remediation Services in New Tampa
Nextgen is your trusted expert in the New Tampa area of Florida for mold inspections, mold testing, mold remediation, and mold removal.
Mold requires moisture to grow, that's why every job we do includes moisture testing to ensure your home doesn't have moisture levels that can support microbial mold growth. The last thing you want is the mold to return after remediation.
Who you select for water damage or mold removal in New Tampa is an important decision because if the job is not done properly, it can not only affect your property value but also your health.
We know the more research you do, the more you'll see why so many choose NextGen Restoration for Mold Remediation in New Tampa, FL.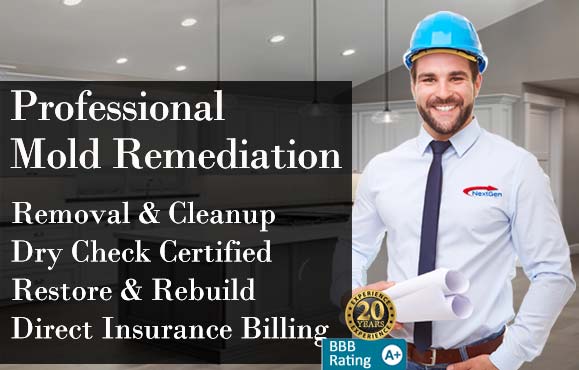 Mold Remediation and Removal in New Tampa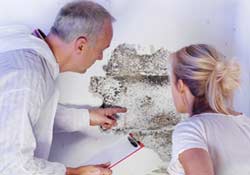 A visual inspection determines if you have mold and how much area is affected. If mold or excessive moisture is found, we will supply a no obligation estimate and go over the steps needed to complete the project and return your home to pre-loss condition. Direct insurance billing available for claims.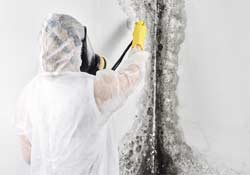 If mold is caught early you can prevent further damage, but action needs to be taken quickly.  Keeping the mold spores from becoming airborne is extremely important. Our techs will seal off the area and set up negative pressure then treat the area to prevent spreading mold spores.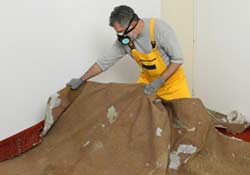 Mold remediation is the process of removing the materials that have been damaged by mold and need to be replaced. Most often this can be carpet, padding, wood flooring, drywall or cabinets. This involves some tear out and demolition, but it is limited to only the damaged areas.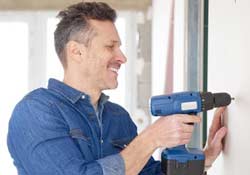 Once the mold issue is fixed, we start to restore damaged areas if repairs are needed. As a Licensed Florida State Contractor we can repair and rebuild for complete restoration. Unlike most mold removal companies, we handle every phase of the project. One call does it all.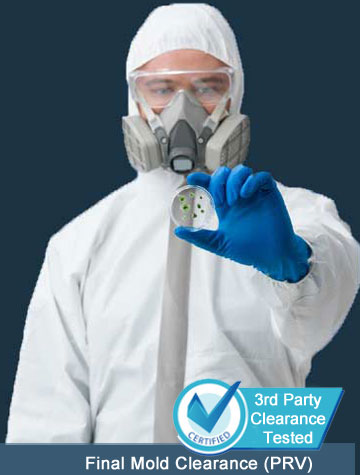 Effective Mold Removal & Remediation
There are chemicals, cleaners, fogs and sprays that promise to rid your home of mold. However, those products are ineffective in most situations.
The only way to effectively treat mold is through source removal. If mold is present on building materials that are porous, such as dry wall or carpeting, they must be removed and discarded. Other materials that are semi-porous and non-porous such as wood and tile, can be professionally cleaned and treated.
Additional equipment usually consists of commercial HEPA air scrubbers to capture microscopic airborne mold, negative air machines, exit chambers, and HEPA vacuums designed to capture tiny mold spores and particles on surfaces. Surfaces are cleaned and treated, every step is performed by trained techs that are experienced in working with mold.
We provide independent, third party documented Final Mold Clearance Test, also know as a Post Remediation Verification or PRV at the end of every job to ensure the home is safe and healthy.
How to Prevent Mold from Returning after Remediation
Making sure the excessive moisture that caused the mold has been eliminated, is as important as the mold removal and clean up process. Your structure must be dry, even inside the walls or the mold will return. Our advanced technology solves the problem.
Penetrating Electronic Moisture Sensors
DAMP (Deep Assembly Moisture Profiling)

These small penetrating wireless sensors can accurately detect moisture at 3½" inches into the layers of the typical 5½" inch wall assembly. That's 6x more accurate than traditional moisture meters!
When water intrusion occurs it can quickly seep deep into the wall where it can't be seen, soaking drywall, insulation and your wood framing.  Drying the inside of that wall assembly is critical to prevent mold.
This science based approach to water damage and our technology is just one of the reasons NextGen has become the leader in re-drying homes that other companies left wet and mold developed.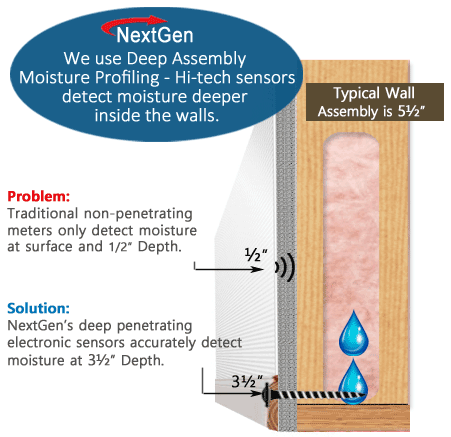 Our Mold Inspections include Certified Dry Check, a Moisture Inspection for your home to ensure it's safe and healthy
Making sure your home doesn't have excessive moisture is critical to preventing mold, that's why with every visual on site mold inspection, we automatically perform a Dry Check Inspection.  Never worry that your home has hidden moisture that can allow mold to grow.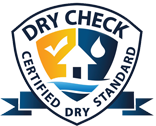 Proud to be providing Mold Removal and Remediation in New Tampa for over 20 Years! Tampa Bay, Hillsborough County and Surrounding Areas!
Our Track Record of Helping Customers
Our reputation speaks for itself, we stand behind our customers so they get the job they deserve!
Consult with one of our Mold Experts
Call now to consult with a mold remediation specialist by phone. In just a few minutes we can provide you with invaluable information and help decide the next step. Don't go it alone, we can help!
NOTE: Many of the terms are interchangeable but Mold Removal, Mold Remediation, Mold abatement and Mold Mitigation are all terms that basically mean cleaning up the mold in a structure. 
We use the state of the art equipment, with advanced testing procedures and monitoring to ensure the job is done right. We've served the Tampa Bay area for over 20 years with a team that's certified by IICRC, ACAC, OSHA, EPA, and we are State of Florida Licensed Contractors.

It cost less to do the job right the first time!