NextGen Covid-19 Information
Our response team is standing by 24/7 to help.
For your health and safety, and that of our team members we have initiated Covid-19 site visit protocols.
As an essential business, we have a procedure to follow when responding during the COVID-19 pandemic. Our entry and occupancy protocol for COVID-19 assumes no one in the home is compromised. If you have a confirmed case of COVID-19, please call us immediately.
COVID-19 Worker / Response Protocols (Presuming no Known Exposure)
Free Zoom Remote Inspections Available
As the COVID-19 outbreak unfolds, we are committed to providing excellent service during this time. We are now offering Zoom remote inspections. Our techs can view the damage through the internet and provide additional information on the situation.
Call us and request more information. The app is free and easy to install.
Through Zoom Video conferencing we can perform site inspections without even being in your home! Safer, faster and peace of mind for you, our valued customer in these difficult times.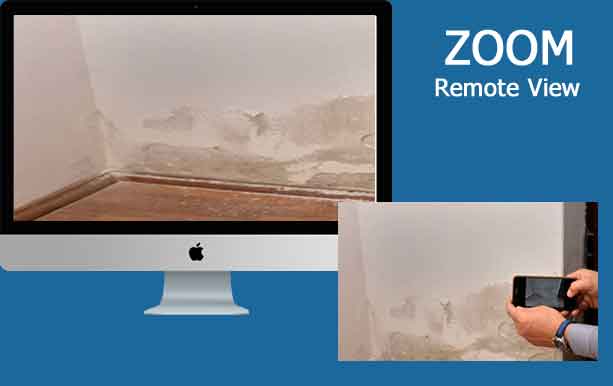 Covid-19 Consumer & Contractor Alert Spraying and Fogging for SARS CoV-2
Please be aware uneducated / dishonest contractors who are offering treatments for the SARS Corona Virus Outbreak.
There are no EPA registered chemicals that are known to kill this virus, only surrogate and substitution viruses.  Also it is against the law to use products that are inconsistent with their labeling. View the video for more information.
With Covid-19 Should You Report your Water Damage?
Please don't delay in reporting water damage or mold issues. Most insurance policies require you to immediately mitigate a loss to prevent further damage. If you fail to mitigate, they may have the right to limit the coverage.  View the video for more information.