Removing Black Mold and Water Damage
The first thing you should know is that many companies use "Black Mold" as a scare tactic. The truth is that mold comes in many colors and no color is more dangerous than any other one. The issue with mold is the endotoxins, exotoxins and mycotoxins that are found as a part of the mold's cellular structure and defense mechanisms. These toxins can be harmful to human health therefore mold remediation should be done by someone that is trained in handling the mold removal and cleanup.
There are no shortcuts, no chemical wonder product, nothing takes the place of source removal of affected materials and cleanup according to the IICRC S500 and S520 Standards for mold remediation.
Mold loves damp moist areas and in particular, materials that are high in cellulose such as wood, carpets, and drywall. If these materials become wet, mold can spread quickly.
The first step in mold remediation is to make sure the moisture problem has been eliminated.  If a structure / home is not dried properly after water damage, mold will grow. We have a lot of experience in structural drying and use a system called
Deep Assembly Moisture Profiling
, electronic sensors that can accurately detect hidden moisture deep in your walls and wood framing that can support mold growth.
We are experts in water damage and mold cleanup and have the reputation to prove it. In fact, we specialize in re-drying homes that other companies have left wet, and mold developed.  We have the equipment to properly dry your home, and the training to remove any type of mold safely and then restore your home to pre-loss condition.
Hillsborough / Pasco / Pinellas / Polk
Consulting Available Nationwide
Tampa's Expert Mold Remediation Company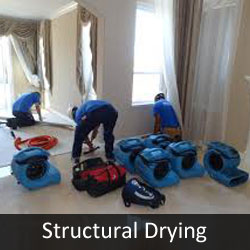 Mold requires moisture to grow. Extracting moisture from the air inside a home with water damage is just as critical as removing the standing water because the moisture permeates the entire house and the area must be dried properly to prevent mold growth.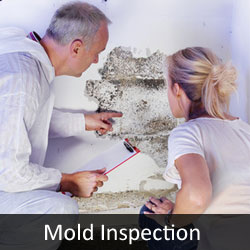 A visual mold inspection will determine if more advanced mold tests are necessary. In many cases we isolate the area with plastic sheeting and use negative room pressure to prevent the spread of mold spores to other areas of the home.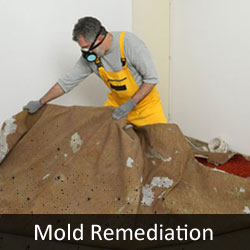 Our techs are highly trained in mold cleanup, and removal. Remediation may be required if some materials are damaged such as carpeting, padding, lower section of drywall and insulation.  Don't worry, we restore these areas to pre-loss condition.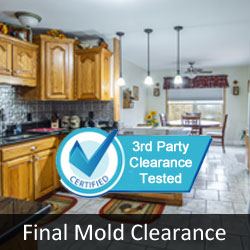 We stand behind everything we do and it's essential to have a final mold clearance test done by an independent 3rd party to show the area has been returned to a safe environment and the work meets the industry standards outlined in the IICRC S520.
Have you had water damage and they told you it was dry, but now you smell mold or is someone in your family unexplainably ill ? Is a contractor currently working on your project and you're not sure the job is being done right?
Working with insurance companies and contractors can be intimidating, and often homeowners sign off on a job without realizing it was not done correctly.
Ask about our Dry Check services,  you can get a Free Phone Consultation with an expert that can answer many of your questions.  Don't go it alone, we can help!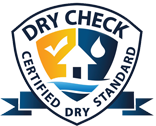 The Truth about the Dangers of Black Mold
When you hear the term 'black mold" it refers to Stachybotrys chartarum and it is but one of many molds that can have chemicals that are both cancer causing and allergenic.  As we discussed earlier, many people in this industry use it as a fear tactic to make people panic. Don't be scared by claims of toxic black mold. In order to be able to address it, you need to have a properly educated and experienced assessor to determine what you have and put together a remediation protocol for it that meets current standards and is guaranteed to produce the results you expect. The good news is it can be taken care of and after the work has been completed a test can be performed to show your home is safe.
If you are suffering from headaches, nausea, and/or sinus infections, no, you are not out of your mind! It definitely could be due to mold exposure. Exposure to elevated levels of mold growth can produce a variety of health issues for you, your family or staff. Additionally, your immune system may respond entirely different than others in your household or workplace.
Now, imagine a fruit tree in a hurricane….Got that picture? Well, if you disturb mold without a controlled containment, millions, and possibly billions of spores can be released into the air. If you see the evidence of mold growth, do not remove the contaminated materials or the problem could become much larger. We don't want that! That's why we take the removal of mold very seriously.
How Long Does Mold Removal Take?
The removal process is highly dependent upon the size of the area of affected. If the mold is still safely inside of a contained area such as a wall, we erect a safe barrier to prevent the spread of mold spores. This usually means the process can be completed in under a week. However, if the mold has been disturbed, or we discover it has grown into previously unseen areas, this of course, will add some more time to safely address the issue. Your air quality and safety is very important to us.
How Much is Mold Removal?
Traditional mold remediation done correctly is not inexpensive. Just the sampling and clearance tests can generally exceed $500.00 each.
Proper mold removal requires complex procedures. Negative-pressure containment must be erected, all affected porous and non-structural semi-porous materials be removed, and all remaining surfaces must be hand-cleaned or media-blasted. Does it sound exhausting? It is! This process creates significant demolition, waste and labor hours. But don't worry – your project will be discussed in detail with you before any costs are incurred to ensure you are comfortable before we begin any work on your property.
Why Follow Mold Remediation Standards?
Mold Remediation standards are important to maintain a safe environment for our crews & the homeowner alike. Even the State of Florida agrees!
With practices and procedures based upon the IICRC's S520 Standard for Professional Mold Remediation, we take great care to remove the source of contamination in a structure only when it is truly necessary.
We also can be sure of our work product by following standards – we know what to expect, every time.
Can You Prove To Me That The Mold Is Gone?
YES! We provide INDEPENDENT, 3rd-party documentation that your structure was not cross-contaminated and has been returned to a safe living environment through an Indoor Environmental Professional. This individual, hired from an outside firm, will use the appropriate testing procedures for your structure, ensuring your health, safety and protecting the value of your structure.